Greek people are today to vote for a crucial issue,
on what Greece and Europe destiny are strongly related.
It is difficult to evaluate the possible scenario coming out from this decision,
neither economists' analyses are to be taken for absolutely devoid of interests and speculations.
---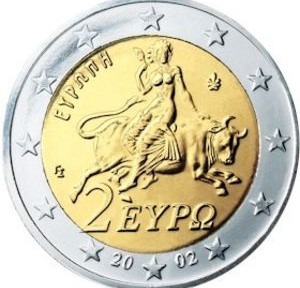 Il linguista Giovanni Semerano rinviene l'etimologia della parola "Europa" nel termine semitico "erebu", che significa "occidente", presente in fenicio come "ereb". In greco l'etimo potrebbe derivare da εὐρύς (eurýs), che significa "ampio" e ὤψ /ὠπός (ōps/ōpòs), che significa "occhio, viso", quindi Eurṓpē esprimerebbe il senso di uno "sguardo ampio".
Proprio dalla Fenicia e dalla mitologia greca, deriva, non a caso, un'importante chiave di lettura.
Viveva, infatti, in quella terra la bellissima Europa, figlia del re di Tiro Agenore.
Zeus se ne innamorò e, per conquistarla, si mutò in un meraviglioso toro bianco, stendendosi ai suoi piedi. Europa gli salì sul dorso ed egli se la portò in groppa fino all'isola di Creta, dove le si unì in forma d'aquila (come effigiato sulle monete greche da 2 euro). Il Toro fu poi riprodotto in cielo nell'omonima costellazione. 
Europa divenne la prima regina di Creta, consorte di re Asterione. Alla morte di questi, gli subentrò Minosse e i Greci diedero il nome "Europa" a tutto il continente che si trova a nord di Creta. Anche a prescindere dalla mitologia, la grecità dell'Europa potrebbe essere difesa in sede filosofica, letteraria, artistica…
Dal punto di vista finanziario, certo, affiorano d
ei limiti, e ci si chiede in che misura le consapevolezze letterarie, artistiche, filosofiche, mitologiche, esoteriche, possano controbilanciare le pressanti esigenze della materia.
Che cosa succederebbe ai cittadini, greci ed europei, se davvero Atene decidesse di abbandonare l'euro?
Secondo il parere degli specialisti, se ciò accadesse, la resuscitata dracma greca non tornerebbe al vecchio cambio 340, 75 che per pochi istanti. Sarebbe colpita quasi subito da una svalutazione pesante e perniciosa che potrebbe andare dal 40 fino forse al 70%.
---