Come raccontato nel cartone 'Spicchi di cielo tra baffi di fumo', una volta gli spazzacamini erano bambini, nati orfani o, come nel caso, venduti dalle famiglie ai padroni.
Svolgevano un lavoro pericoloso e spossante, che li esponeva a continui rischi di salute e incolumità (ancora oggi viene ricordato, come martire della professione, un bimbo che, stando sui tetti, venne folgorato dai cavi dell'alta tensione).
Lo spazzacamino esiste ancora, usa tecnologie diverse ma continua a fare un lavoro utile quanto pericoloso.
In Italia esiste un'associazione che li coordina e difende, l'ANFUS (Associazione nazionale fumisti e spazzacamini) e, sempre in Italia, in Valle Vigezzo (VB) ogni prima domenica di settembre gli spazzacamini di tutto il mondo si radunano  per ricordare una professione antica, nobile e ricca di poesia. 
In letteratura, particolarmente alti due sonetti di William Blake (1757 – 1827):
---
La parola inglese "slice" corrisponde all'italiano "fetta", oppure "spicchio" (se parlate di un agrume, dovete usare "segment" ma non è il caso).
Ragionando in inglese, dunque, mi si dovrebbe oggi consentire di essere particolarmente contento
"to have the slices of my 33th birthday cake"…
In tv, proprio in questi giorni, sono ricomparsi gli slice, ovvero gli spicchi di Romeo e del suo cielo blu.
Romeo, protagonista de "Spicchi di cielo tra baffi di fumo", è un ragazzo in gamba, partecipa alle feste di paese salendo fino alla sommità di un palo sormontato da una civetta, vede il fuoco, ne supera la paura, il padre perde temporaneamente la capacità di vedere, lui si sacrifica etc… etc… etc…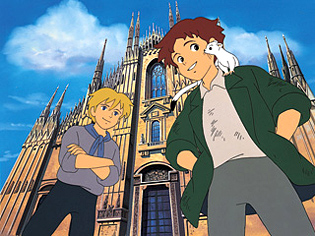 ---
Vorrei farvi leggere le ultime rielaborazioni che ho composto ispirandomi alle sigle dei cartoni animati Spicchi di cielo tra baffi di fumo, Piccole Donne e Ascolta sempre il cuore Rémi.
---