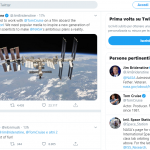 Update May 25: the film will be directed by Doug Liman ('Edge of Tomorrow', 'American Made' (2017). The announcement was made on the eve of the launch of the Space X Dragon from Cape Canaveral in Florida.
Update: now realizing it is a very clever idea at all! The space should be the unique location in which Covid-19 is not supposed to be… 😈
Tom Cruise is reportedly said he is working on a project together with Nasa, Elon Musk, and Musk's company SpaceX, for making a film in the space!
According to Deadline, that first released the piece of information, the film will be a full-lenght one, nor it will necessarily have to be a new episode of 'Mission impossible'.
NASA's CEO, Jim Bridenstine, twitted on his official profile: (more…)
---
Integrazioni 10 agosto: Sylvester Stallone ha confermato che 'Rambo 5' si farà. Lo ha fatto su Instagram, postando le fotografie dei pesanti allenamenti ai quali si starebbe sottoponendo in vista del film. Il quinto capitolo delle gesta di John Rambo sarà girato a Londra, in Bulgaria e nelle isole Canarie; la Millennium Films aveva gestito la compravendita dei diritti per la distribuzione internazionale già all'ultimo film market del Festival di Cannes.
Tornerà anche 'Fantasilandia' ('Fantasy Island', in originale), la serie della Nbc che andava in onda su Canale 5 negli anni Ottanta. Stavolta però sarà un film, prodotto da Blumhouse con Sony Pictures.
Integrazione ulteriore: secondo 'Deadline', la Sony Pictures starebbe per realizzare una nuova serie de 'l'Albero delle mele' ('The Facts of Life'), che andò in onda su NBC dal 1979 al 1988, su Canale 5 dal 1983 al 1986. Società di produzione di questa nuova serie sarebbero, nientemeno, la Appian Way di Leonardo DiCaprio e la Iron Ocean Film, di Jessica Biel.
Integrazioni 3 agosto 2018: 'Buffy l'Ammazzavampiri', 'Streghe', 'Dylan Dog', 'Alf'Buffy l'Ammazzavampiri'. Oltre a quelle trattate, ci sono altre serie televisive che corrono il rischio di tornare a trovarci, nell'immaginario collettivo e nelle abitudini quotidiane. Melonie Diaz, Sarah Jeffery e Madeleine Mantock saranno le nuove 'Streghe', un'attrice afroamericana potrebbe prendere a breve il posto di Sarah Michelle Gellar nell'interpretazione di Buffy Anne Summers, Warner Bros. starebbe cercando uno sceneggiatore per riprendere le avventure dell'alieno Gordon Shumway, ('Alf': Alien Life Form) e Dylan Dog, italianissimo indagatore dell'occulto made in Bonelli, potrebbe essere protagonista di una serie televisiva in live action. Quest'ultimo progetto sarebbe parte di una strategia cui la Bonelli ha dedicato un'intera area e che potrebbe riguardare, in futuro, anche Nathan Never, Mister No, Dampyr, Dragonero, Il Confine e Martin Mystère.
I Jefferson, Maude, Charlie's Angels, Arcibaldo… Come al cinema, anche in televisione i successi del passato tendono a riproporsi, in omaggio allo schema dei corsi e ricorsi oppure al fatto che, secondo Mike Bongiorno, la televisione, almeno in parte, dev'essere uguale a sé stessa. È anche una moda dei tempi, senz'ombra di dubbio.
Norman Lear, autore di serie televisive storiche come, appunto, 'i Jefferson', 'Arcibaldo' ('All in the family'), 'One Day at a Time' è stato contattato da Sony alla veneranda età di 96 anni per sviluppare, con la sua Act III, serie televisive nuove ma, soprattutto, resuscitare vecchie glorie del passato, come quelle che abbiamo citato sopra. Sony ha già acquistato diversi anni fa l'intera library delle produzioni di Lear e ha prodotto, di recente, 'Guess Who Died', serie comedy per NBC arrivata alla realizzazione del pilot senza sviluppi ulteriori.
Anche le Charlie's Angels torneranno ma

(more…)
---
Cosa ci riserva il 2015 al cinema? Può sembrare una domanda prematura ma, visto lo spazio riconosciuto alla generosità del mese in corso, giocare d'anticipo può avere un suo perché. Si consideri, inoltre, che, quanto a offerta cinematografica, il 2015 sarà davvero un anno ricco di sorprese.
Di seguito, una breve rassegna dell'offerta stelle e strisce, rimandando ad altra sede quella del cinema nostrano:

(more…)
---